Case study
Why should employment agencies ask questions beyond recruitment?
Mondi-polska.pl is an employment agency that seeks Polish workers for German employers. We wished to determine how to boost the quantity of resumes collected by the website.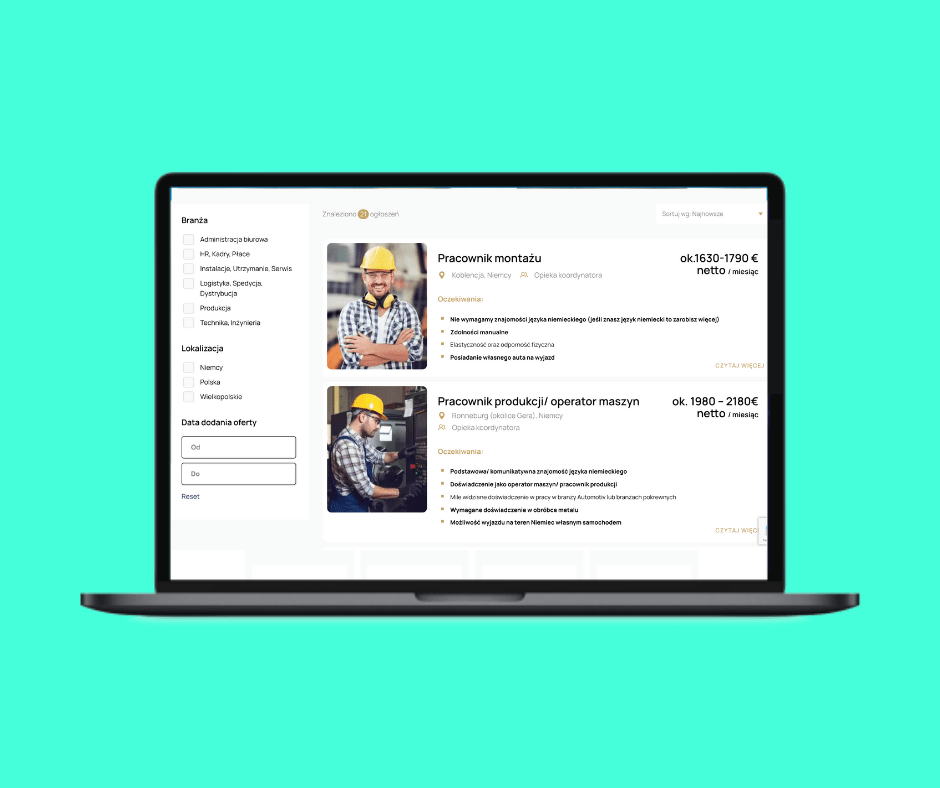 The selection procedure consists of a series of questions. Questions posed by both the recruiter and the candidate prior to the submission of the CV.
The questions asked by prospective employees are crucial. Finding answers to these questions on the recruitment website is a major influence in the conversion rate attained.
This time, our research team posed inquiries to determine the needs and expectations of job candidates in Germany.
Based on the collected data, we modified the website to increase conversion, which we define as the number of CVs acquired.
Aim
What was our mission?
Increase the volume of CVs and the calibre of experience of German job applicants by optimising the website.
Process
Hypothesis and investigation
On the German market, the company's reputation as a reputable employment intermediary was already well-established. After the initial discussion, we identified an area for improvement in the website's navigation, and a review of the measuring tools (Google Analytics) revealed that the analytics did not distinguish between blog traffic and interested applicant traffic.
After recruiting users, we began the Candidate Journey study in the website's current state and compared it to the websites of the competition.
During UX research, consumers identified key information and information gaps.
We were able to create a priority list for a potential applicant based on their responses.
Changes
Concept of changes
The layout of the new page
Rebuilding of navigation
Creating a new job offer card based on the applicant experience research priorities obtained (Salaries, Location, Form of employment, Extras, The most important information, Reference photo)
Separation of blog traffic and candidate traffic within Google Analytics.
Report generation with Google Analytics
Workshop to develop four personas
The site increased from fifth to second in terms of CV sources for the company.
Increase of 32% in the quantity of CVs uploaded
According to the survey, there is a rise in user satisfaction with the website.
Template of the advertisement that corresponds to the candidates' actual requirements
Improvements to the website's appearance
Understanding the requirements of candidates and communicating this data to the recruitment department
Personnel in recruitment departments are experts at providing the most pertinent questions to prospects.
It is also important to consider the relevant questions to us.
In recruiting or employer branding departments, Candidate Experience research and UX audits provide an opportunity for candidates to feel more liberated and identify their true needs. Based on the outcomes of such activities, we can learn more about enhancing the candidate experience and increasing the achievement of the aforementioned departments' objectives.
We have something more for you
Check out our other case studies