Case study
University application design
UX & UI is the project of the application "Wysza Szkoa Zarzdzania I Bankowoci w Krakowie," which provides for the operation of a virtual university. Collaboration with the University's team on the development of a new application structure and technique of student communication.

Redesigning the interaction and creating a new visual layer of the application in accordance with the WCAG 2.1 requirements.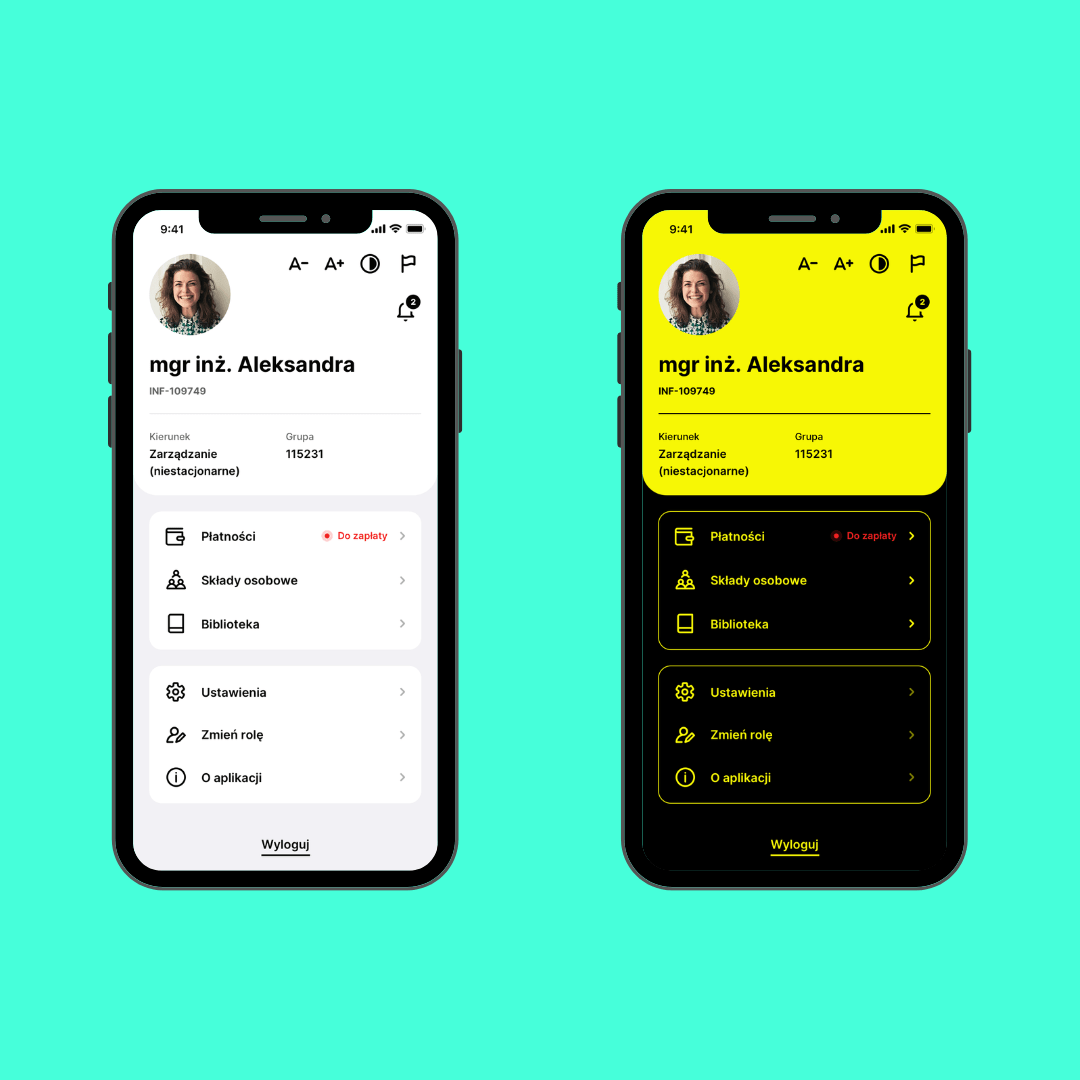 Since 1995, Wysza Szkoa Zarzdzania I Bankowoci in Krakow has provided training in IT, management, finance, logistics, and digital marketing. A modern ICT framework places the institution at the forefront of this type of entity.
Aim
What was our objective?
Developing intuitive interactions and an appealing application appearance while considering the needs of students with impairments.
Project
How did we do it?
Step 1
Analyze current solutions and create new interactions and interface elements.
Step 2
Maintaining touch with the University team and making crucial project decisions together.
Step 5
Consideration of design guidelines for people with disabilities (WCAG 2.1)
The scope of the UX/UI project
Scale of the project
55 app views

Compatibility with multiple software / Android iOS

Screen graphic design and interaction preparation

Creating WCAG 2.1-compliant interfaces
Subject scope
App development functions
Communication between students and professors
Transcripts in digital form
A timetable with a calendar
Tuition payment services
Profiles of online lecturers
System of library assistance
Notification systems
Quote
Comment from the designer
"Developing an app for a university is always a tremondous undertaking, especially since the UI must be accessible to people with disabilities." We had to consider WCAG 2.1 guidelines when building the UI / UX of this application, which substantially affected the workflow and design approach. "We chose minimalism to make the app appear modern while also being adaptable to a wider range of clients."
The UI / UX design of the university's application, taking into account the standards of WCAG 2.1, is a challenge not just in terms of interface design.
It entails programming implementation difficulties. However, it is a highly forward-thinking commercial decision that, above all, displays the school's beliefs. Because it is worthwhile to pay attention to distinct groups of people and respond to their needs. We are delighted that we were able to make a small contribution to improving educational accessibility.
We have something more for you
Check out our other case studies