Case study
Designing the user interface of a B2B website
Humansoft created the enterprise resource planning (ERP) system.
The company has been operating for thirty years. In 2022, the corporation celebrated its birthday and the website was its "present."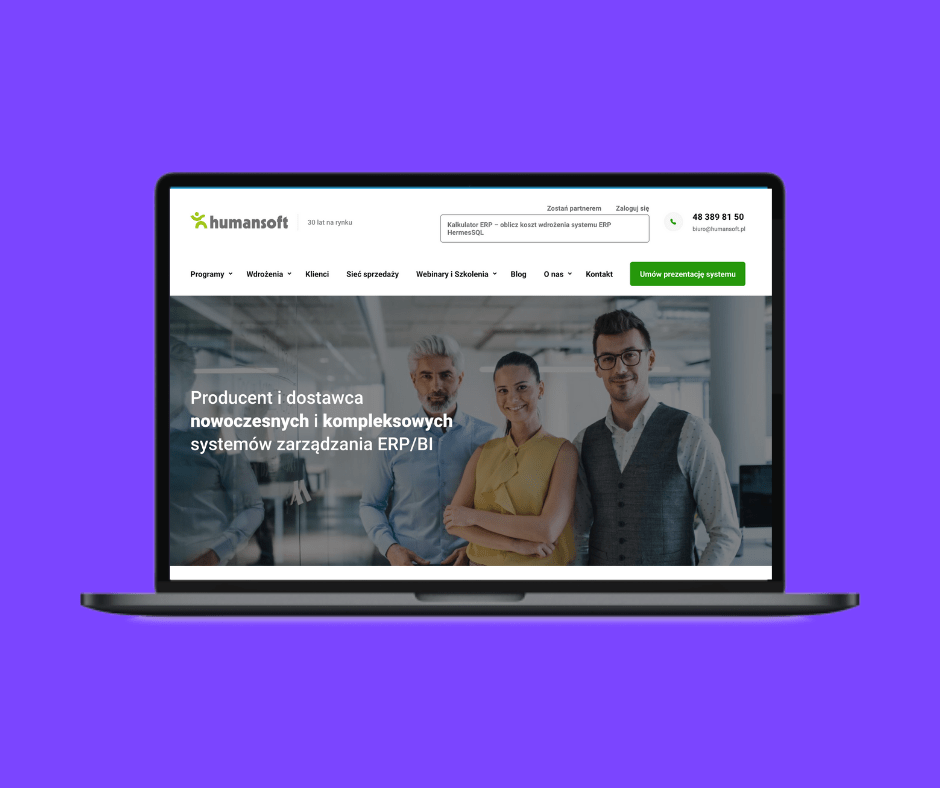 It may appear that website design for B2C and B2B businesses is same. However, while building B2B websites, UX/UI designers adhere to an entirely separate set of guidelines.
67% of B2B purchasing choices are impacted by a website's aesthetics. What does it indicate? Approximately 67% of customers will be able to convert due to a well-designed website.
Our objective was to redesign the website in order to maximise conversion and improve the user experience for those seeking IT solutions for business management.
Methods
What strategies have we selected?
IDI research with entrepreneurs

Contextual research with business owners

Conceptual workshops, the creation of personas, the documentation of the company's and its goods' values to customers, etc.

Low-fidelity models of the prototype (29 views)

Mobile-first project with thirty distinct template kinds

Coding

Concept and setup of online analytics (Google Analytics / Google Tag Manager).
Research
User experience research
We based our research on actual, well-considered scenarios.
We interviewed the respondents (business decision-makers) about their search for ERP software and related experiences, and then we proceeded to the phase of testing the website's prototype and validating the new hypotheses.
We chose qualitative research since understanding the needs of respondents seeking ERP software for their businesses was of utmost importance.
Changes
Concept of changes
The website's solutions were built on the concept of simplicity and included subtle brand-specific visual accents.
The primary objective of the modifications was to arrange the website's overall structure and information architecture, as well as that of its subpages. We endeavoured to present information about the company's products and services in the most comprehensible and straightforward manner possible.
Usability is the cornerstone to any project's success. The notion of solutions that we proposed enhanced the perception of the client's website among users, enhanced communication, and attracted new contractors.
Designing a contemporary UI
Increasing knowledge using qualitative UX research data
Organizing metric equipment
Boosting conversion
Enhancing the brand's image as contemporary and appealing
We have something more for you
Check out our other case studies